Chiropractic
Chiropractic is a health care discipline that emphasizes diagnosis, treatment and prevention of muscle, nerve and joint problems. The spine houses the nervous system and it is believed that when the joints of the spine are not moving properly, it can hinder the overall functioning of the nervous system.
The body has the ability to heal itself. It is the role of the chiropractor to ensure that the nerves, muscles and bones of the body are working properly, and in unison, in order for this to be achieved.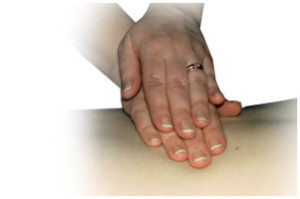 When should I see a Chiropractor?
There are many reasons to seek chiropractic care:
Back pain
Neck pain
Headache
Whiplash
Strains and sprains
Repetitive strain injury (RSI)
Work and sports injuries
Arthritis
Limited range of motion in the back, shoulder, neck or limbs
General health and well-being
While chiropractors are often labelled "back doctors," conditions related to the extremities are also treated effectively, such as tennis elbow, frozen shoulder, carpal tunnel and bursitis, to name a few.
How Does Chiropractic Work?
Chiropractors assess the joints of the spine and other joints of the body to determine if they are moving properly. If the spine is not moving the way it should, it can affect the muscles, nerves, and/or joints and subsequently cause pain in various ways.
When a joint is restricted, or not moving properly, it is the role of the chiropractor to perform what is called a chiropractic "adjustment" or "manipulation." This is a manual procedure whereby the chiropractor will use his or her hands to restore motion to the affected joints in order to reduce pain and restore or enhance joint function.
At times, people will experience a popping sensation and this is merely a release of gas from within the joint cavity. It is similar to the noise heard when a person cracks their knuckles. The popping noise does not cause any damage to the body and it does not hurt if the sound is heard.
A chiropractic adjustment is a highly controlled procedure that rarely causes discomfort. The chiropractor adapts the procedure to meet the specific needs of each patient, based on your age and condition. The techniques used to treat infants and children differ greatly from those used to treat adults.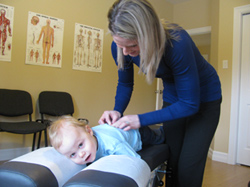 What Kind of Education and Training do Chiropractors Have?
Chiropractors require at least three years of undergraduate university study plus an additional four years at an accredited chiropractic college. Dr. Sullivan received a Bachelor of Science in Kinesiology prior to her four years at the Canadian Memorial Chiropractic College.
Upon completion of the chiropractic training, chiropractors are subject to rigorous national and provincial board examinations before becoming licensed in Canada. In Nova Scotia, chiropractors are also required to maintain continuing education credits.
Do I Need a Referral from my Medical Doctor?
No, you do not need a referral from your medical doctor to see a chiropractor. Chiropractors are legislated as primary contact health care professionals in every province in Canada. This means that patients can consult them directly.
If you wish, Dr. Sullivan is more than willing to keep your medical doctor informed of your condition and the progress we are making with care.
Is Chiropractic covered by MSI?
While there is no government funding for chiropractic in Nova Scotia, chiropractic is covered by most health insurance plans. In addition, Worker's Compensation Board of NS, motor vehicle insurance, RCMP and Veteran's Affairs all have coverage for chiropractic treatment.
Direct billing is available for:
Blue Cross
Canada Life
Sunlife
Desjardins
Johnson Inc.
Standard Life
Industrial Alliance
R.C.M.P.
Veterans Affairs
Manulife
Chambers of Commerce
Greenshield
Empire Life
Does Hammonds Plains Chiropractic bill directly to insurance companies?
Hammonds Plains Chiropractic can directly bill services for Blue Cross, Sunlife, Great West Life, Desjardins, Standard Life, RCMP and Veterans Affairs. All other insurance carriers require that payment be made in advance and the patient reimbursed upon receipt of payment. In those instances, Dr. Sullivan will provide you with a receipt that you can send into your insurance company for reimbursement.
Acceptable methods of payment are cash, debit, Visa and MasterCard.

If I See a Chiropractor, Will I Have to Go for the Rest of My Life?
The short answer is no. Often what keeps patients returning for chiropractic care after their initial symptoms have subsided is the feeling that is customary with regular chiropractic care.
People do not realize they are limited in mobility until they receive chiropractic care and experience the freedom that is affiliated with mobile joints and loose muscles! People live with a lot of aches and pains that they don't even realize they have until they are gone. When they come back, people often choose to return to their chiropractor for an adjustment.