Home
Hammonds Plains Chiropractic was established in January 2009 and offers
Chiropractors treat a variety of conditions including, but not limited to,
Back and neck pain
Headaches
Sciatica
Work injuries
Sprains and strains
Arthritis
Decreased range of motion
Chiropractic adjustments are gentle, safe, and quick and help restore mobility to the joints of the spine and extremities, thereby improving function and reducing overall pain.
A home-based practice offers comfort, relaxation and flexibility. Daytime and evening appointments are available.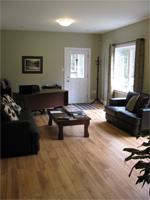 Direct billing available for most insurance providers.